What should I include in my professional CV format?
Contact information
Include your name, email address, phone number, and city in your professional CV. It's important to make sure anyone reading your CV knows exactly who you are and how to contact you.
Depending on your location, you may also have to include your exact home address, your date of birth, and other personal details. Be sure to research CV expectations in your country so you know exactly what information to include.
You may also want to include links to any online profiles, like a personal website, LinkedIn profile, or Twitter account. If your accounts are focused on career topics and you mainly post about your industry, online profiles can show that you're engaged and interested in your field. However, you must be 100% certain that everything on that account is professional and appropriate for a business context—even Twitter likes.
Work Experience Section
For most job-seekers, the Work Experience section takes up most of the space in their professional CV format. This is the section that tells your career story by showcasing previous roles and demonstrating your expertise.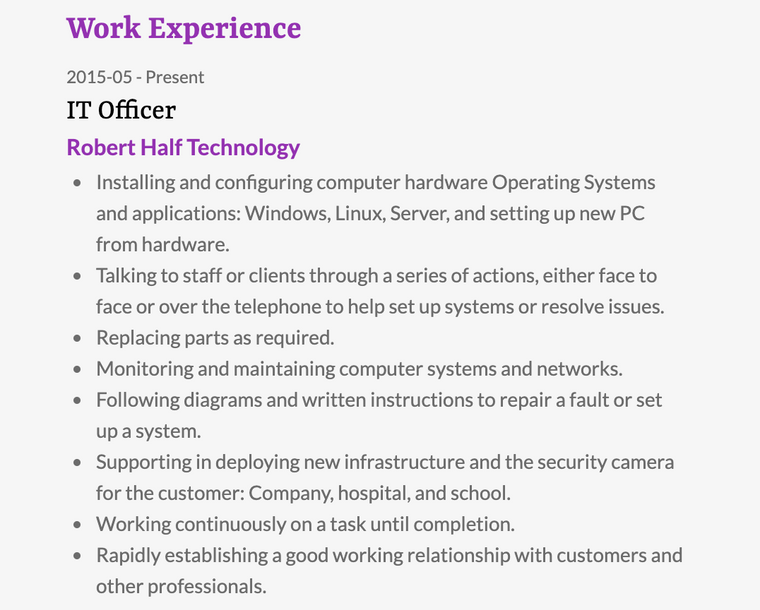 Inside your Work Experience section, list your previous jobs in reverse-chronological order (unless you are writing a Functional or Combination CV), beginning with your most recent role and working backwards in order. For each job, include the job title, company name, and dates of employment. Describe each job using active language in a simple bulleted list.
Education Section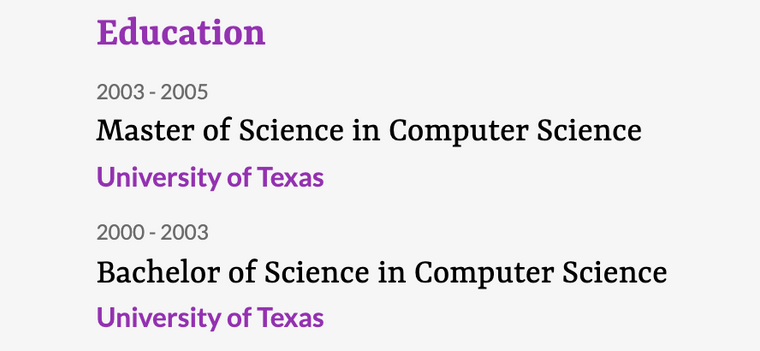 For most job-seekers, a more detailed description of each entry isn't needed. If you're a recent graduate, however, you may want to include details like GPA (if it's high), research topics, or relevant coursework to show what your classes were focused on.
If you're writing an academic or research CV, your education may be more important than your work experience. This means that your Education section can be longer and include more detail. Include things like specialization, dissertation topic, research area, and any other detail that will help you emphasize your academic achievements.
CV Skills Section
To make your professional CV format as impressive as possible, it's important to include a Skills section. Employers want to know what you're capable of and what your specialties are. Your Skills section lets them know what you can do for their company.
Pick your most impressive and most relevant skills and display them on your CV in a simple list. Most people prefer a bulleted list. If you want to include a visual element, a strength rating showing your aptitude for the skill is a great way to add some personality.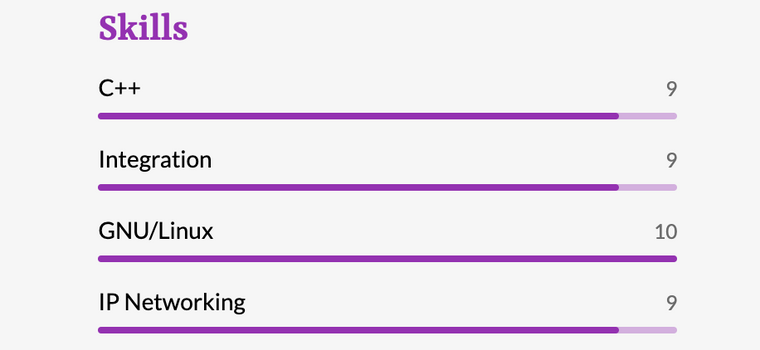 Other CV sections
There are some CV sections that can be useful, but don't apply to everyone. If there are aspects of your career that you want to add to your CV, but they don't fit into the typical sections, you can always create a new section for them. Any relevant qualifications that will help your CV can be added.
Publications (etc)
Academic CVs have very specific needs, so it's important to know exactly what is expected in your field. Research CV expectations in your industry so you know what to include. When listing your publications, make sure to use the appropriate academic citation format.
If you aren't writing an academic CV, you likely won't need a Publications section. If you have published work in another context, like journalism or content marketing, a Portfolio section with hyperlinks is more suitable.
Volunteering experience
Experience working with volunteer organizations can look great on a CV. Volunteering can show that you have interests outside of work, a generous disposition, and are involved in your community.
Certifications
Credentials that don't quite fit in with your Education section can be added to a Certifications section. This might include a special drivers license, a trades ticket, a management certificate, and more. Any relevant certifications you have achieved can be added to a Certifications section.
Memberships
You may want your CV to show that you're a member of a club or organization. Whether they're local clubs or international organizations that you participate in online, the right memberships can look good on a CV.
When Do I Use a Curriculum Vitae?
Individuals who use a CV format when applying for a job are generally applicants who need to convey a large amount of information which will not only help to tell an employer who they are but help define them and their work within a specific discipline.
To put it simply, CVs are traditionally used for individuals who are looking for employment in academic, research, or scholarly positions. Many PhDs, educators and teachers working at the university level (and above) will use a Curriculum Vitae rather than a resume to outline not only their work history, but their published academic papers and professional accomplishments as well.
While people in academics and education are the most likely to be asked to produce a CV for a job, there are other job seekers who need to have a solid CV as well, including individuals who are in medical and/or scientific fields as well as people in research or looking to work abroad.
Both United States and Canadian citizens who are interested in traveling overseas (most often to the U.K.) should be prepared to have potential employers ask them for a thorough CV.
CV vs Resume
As we said above, both are used to obtain an employment position and both are an ever evolving 'living document' (by living document we mean it's a document you constantly update and keep current based on your own work history and experiences…not that you have to feed it and take it for walks daily. That would just be weird.)
Let's say you're applying for a job as a scientist. If you were writing your resume you would include only the work information that relates specifically to the job you're applying for, but for a Curriculum Vitae, you would also include all your teaching experience, lab and field work.
Pretend you're a grad-student and you're just getting out into the world. Your CV might be just a page or two long as you're still new to the world of academia and your accomplishments are just starting to roll in.
Now, let's flash forward ten years into the future. You've been working for a prestigious university and have had a number of papers published in high profile journals. Your CV, which was once just a few pages long, might now be closer to seven or eight. You've not removed any information…rather, you've added to it.
Every time you accomplish something, you add that to your CV. Did you contribute your findings to a scientific journal? You add that to your CV. Were you awarded an honor at the university you're currently working at for teaching excellence? You add that to your CV.
Tips for Writing a Cover Letter for a CV
While your CV provides a detailed—and often lengthy—look at your experience and credentials, the cover letter is an opportunity to call out your most important qualifications and make a compelling case for your candidacy for the role at hand. Here's what you need to know to write a successful curriculum vitae cover letter.
Tailor the Letter to Fit the Organization
Each letter needs to provide detailed information about why are you are qualified for the specific job in question, and it should outline the reasons for your interest in the company or organization. Being specific is advantageous. Even if you're applying for two similar roles in two different hospitals, the two hospitals may serve different populations or require slightly different responsibilities for people in the role. Your letters to each hospital should reflect that.
What to Include
As a candidate, it's tempting to feel like the cover letter is unnecessary, since it is likely that all the pertinent information is included in your CV. Still, as you can see, the cover letter is a helpful tool in your application. Here's what to keep in mind as you write a cover letter.
Format Matters
The content of your cover letter should be brief and structured. Aim for 3-5 paragraphs in your letter. Start with a salutation. Your letter should address the relevant contact, whose name often appears in the job advertisement. Avoid "Sir" or "Madam" if possible.
Start With an Introduction
Typically, the first paragraph will be an introduction—if you are applying to a job ad, mention it here. Mention the job title, any reference number, and where and when you saw it. The first paragraph is also where you should mention if someone referred you to the position.
The Body of the Cover Letter
The body of the letter—the second and third paragraphs—should highlight your relevant skills and experience. Highlight your transferable skills, achievements, and versatility. Explain what you can contribute and what makes you stand out from your competition. Include mention of your current or last job, qualifications, and professional and academic training, tailoring your information to make it as relevant as possible to the organization or job applied for.
In the body of the cover letter, you can mention personality traits relevant to the role at hand. You can also use this space to call out why you're interested in this specific role, at this specific company. Potential employers and hiring managers will appreciate it if you can show you've read the job ad and researched the company.
Conclude the letter by succinctly summarizing why an employer may want to meet and employ you. Include a polite expression of interest in further dialogue with the recruiter. Do mention that you would like the opportunity to discuss your suitability further in a personal interview and that you await a response in due course.
Follow Instructions
Always follow specific instructions and include any information if it is specifically requested. For instance, some employers may ask you to include your current salary or your desired salary range.
Make Sure the Letter Reads Well
Ensure that your CV cover letter flows freely. You do not need to precisely match every point on the job description. The reader should be left with an overall impression that you are a potentially valuable addition to the workforce.
Cover Letter Sample
Depending on the employer's submission requirements, cover letters can be submitted online with your CV, uploaded online, or mailed. Be sure to follow the application instructions and follow the directions on how to apply. Consider this template for how to structure your letter:
I am writing to apply for the position of assistant professor in the Biology department, as described in the Northern University website. The opportunity to teach biology appeals to me, and I believe I can be an asset to the department due to my experience as a field biologist, as well as my work as an adjunct professor at Southern State University. In accordance with your job description, I have the following skills:
I can be reached anytime by email at [email protected] or my cell phone, 555-555-5555. Thank you so much for your time and consideration. I look forward to speaking with you about this position.
Resource:
https://www.visualcv.com/blog/professional-cv-format-guide/
https://theinterviewguys.com/cv-curriculum-vitae/
https://www.thebalancecareers.com/curriculum-vitae-cover-letters-2060329