Rebranding Guide: How to Navigate the Rebranding Process
If you own a business, you've probably heard the word "rebrand" once or twice. You may have seen other companies or competitors go through the rebranding process, or you may have even been told that your business needs to rebrand. But without a solid understanding of exactly what "rebranding" means or what it fully entails, it's hard to know if it could be the right move for you.
First things first: taking on a company rebrand is not a small endeavor. If your rebrand is going to be successful, then it's going to require a significant investment of your time and resources—money, brainpower, and everything in between.
If you speed through the rebranding process or cut corners, you run the very real risk of damaging your company image and reputation, rather than improving it. That is exactly the opposite of what you want to achieve. So, it makes sense to arm yourself with as much information as possible before starting down the path of rebranding.
Let's make sure you're fully informed on the rebranding process, and what it will all mean, so you'll know you're doing it for the right reasons—as well as putting your time, resources, and money to their best use throughout the project. If you're fully committed to getting it right, a successful rebrand will give you a high return on investment and a boost to your company image and reputation.
WHAT EXACTLY IS A BUSINESS REBRAND?
And while that is all significant to the process (and a super technical definition), rebranding isn't just about changing the logo, the color scheme, or the visual identity of a business. That is all part of the process, and there is so much more. This is a unique opportunity to re-evaluate (or newly establish) a company's values and ethos. Then that understanding can be applied to develop an entire story and create a cohesive brand that works in harmony with everything a business is and stands for.
Considering where a business has come from, where it is currently, where it is headed, and where it has the potential to go, and then applying all of that to a new brand identity, provides an authentic picture of the company to customers, employees, and stakeholders.
WHY WOULD YOU REBRAND YOUR BUSINESS?
Your business has changed focus or direction
Your business's existing brand looks outdated or unprofessional
You need to differentiate your business from the competition
You need to appeal to a new or different customer demographic or audience
You need to rebuild a reputation or create distance from past issues
You want to remarket your business by showcasing a new ethos or new set of values
Your business has experienced rapid expansion or undergone mergers
There are two types of rebranding. The first is proactive branding. This is where a company recognizes that rebranding will create an opportunity for growth or the ability to tap into new markets or niches.
Reactive branding is where the existing brand is redundant and needs to be updated and changed. This could be for a number of reasons; mergers and acquisitions, new or updated products or services, or the need to rebuild a damaged reputation.
REBRANDING VS. BRAND REFRESH
First, you'll need to decide whether your business needs a complete rebrand, or if you can get by with a brand refresh. Rebranding is a significant investment, so take the time upfront to consider which would work best for you, and which will have the best long-term results.
A brand refresh is just a polishing that updates, or refreshes, your existing brand elements. This is building on the foundation of what you already have established, so you'll need to be confident that your existing brand resonates with your audiences, portrays an accurate representation of your business, and is strong enough to withstand the refresh.
A complete rebrand is much more involved. In this case, while you don't want to lose sight of your entire brand identity or completely rid yourself of what keeps your customers coming back, it's a serious upgrade and a major change to your company's status quo. This is an opportunity for a fresh start that reinvigorates your business, establishes a new, fresh, and modern direction, and lets new and existing target audiences know that you care about what motivates them, and the images and messages your company is sharing.
WHEN IS REBRANDING A GOOD IDEA?
If you find yourself frequently thinking about rebranding, and considering all of the advantages it can bring, let us be the ones to tell you that it might be time to just go for it.
CONSIDER THIS:
HOW MUCH WILL REBRANDING COST?
Rebranding is an investment. This is not a bottom-of-the-barrel solution to your business's problems, so it's important that you're mindful of this when you're deciding how much time, money, and resources to put into a rebrand.
Changing the Name for No Good Reason
Probably the most dramatic rebranding measure you can take is to change the name. But, such a drastic change can hurt you if you don't have a proper reason for it. If you're just bored of the old name, you'll get bored of the new one as well – the novelty will wear off, and you won't have achieved anything.
Even more importantly, a name change is useless if you don't fix the underlying problems which caused you to consider the change in the first place. If you simply try to mask them, your clients will see through it.
Still, a name change can work. For instance, Google's search engine initially went by the name "BackRub", and it is highly debatable whether the company would have grown into what it is today had the name not been changed.
So, if your name creates confusion or doesn't differentiate you from your competitors, it's good to change it. The same is true if it's too closely connected to a single product but you've since expanded. Otherwise, you should probably look elsewhere.
In essence, the best names are those which are tied to an interesting story related to your company. To go back to Google's example, that term is a play on words which symbolizes the incredible amount of information its users can access. If your brand name can already achieve something similar, then there's probably no need to change it and your rebranding efforts should focus on other areas.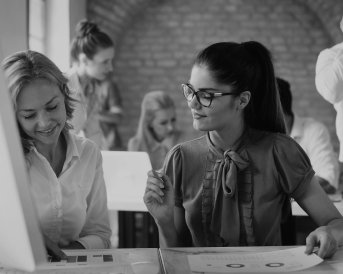 How to rebrand a company
1. Redefine your target audience and market
Conduct research to understand your target audience, what your competitors are doing, what is unique about your brand, and how it differs from other companies in the same industry.
In-depth research that involves focus groups and data analysis, allows you to notice if your customers and competitors don't match your idea. Identify your actual buyers and their preferences. Compare this data with your initial target market and audience to find out some differences. As soon as you manage to define your actual market and audience, you can go on implementing your strategy.
2. Rethink your vision, mission, and values
Vision. Vision gives your brand direction and defines the actions your company needs to take. Over time, the vision of your business might change, and that is totally normal. However, it is essential to redefine your vision as soon as this happens to ensure that your employees are moving in the right direction and make decisions accordingly.
Mission. This defines the purpose of your company. Your mission describes your primary consumers, the products you produce, and your location. It is your business' roadmap. As your mission changes, your messaging requires change too.
Values. Your company's values explain why you're working towards your vision, and why you're committed to your mission. As brands evolve, they might change their old values. So you need to reflect your new values to show your main focus.
Remember, if the components mentioned above change, the way you communicate them to your audience also requires some change. The language you use, the tone, and voice have to match the message you want to convey.
3. Reconsider your company name
Of course, changing a company's name is a serious step as it can cost you brand recognition and organic traffic. However, if you are seriously thinking about changing your brand's name, make sure that you have a plan of recovery after you rebrand.
In general, if your company name still aligns with your mission, vision, and values, it is better to keep it. Yet if it mismatches your identity, it is advisable to modify it. Make sure that your new brand name conveys your message, is easy-to-spell and catchy. The right name also supports your goals and business growth.
4. Revise your brand slogan
Your aim here is to create a slogan that communicates your company mission, vision, and is also memorable. Consider changing it carefully as it highlights the purpose of your brand.
For sure, customers remember catchy slogans from famous brands like "Just do it" from Nike, "I'm Lovin' It" from McDonald's, or "Because You're Worth It" from L'Oreal. To create a great slogan, consider providing instructions, making a claim, getting metaphorical, or using poetic language.
5. Re-establish your brand identity
Change your logo
If you have had some internal changes in your company and you want to demonstrate them, consider developing a new logo. To refresh your old logo, use these basics to do it correctly:
Use different colors
Look at your company colors with fresh eyes to decide whether it matches your brand image. Besides, nowadays it is essential to check how your color palette looks on-screen and in-print. Make sure it looks the same on different brand materials.
Reconsider your shapes and imagery
Once you decide to change any visual elements of your branding, give a thought to modifying shapes and imagery to keep everything cohesive. Also, make sure that your imagery and shapes support your brand's message.
Rebranding Examples
Dunkin' Donuts
According to the company's Chief Marketing Officer, they refreshed their logo to reflect the increasing emphasis on coffee, other drinks, and sandwiches. Nevertheless, the brand still uses the same color palette and iconic font to maintain brand awareness among customers.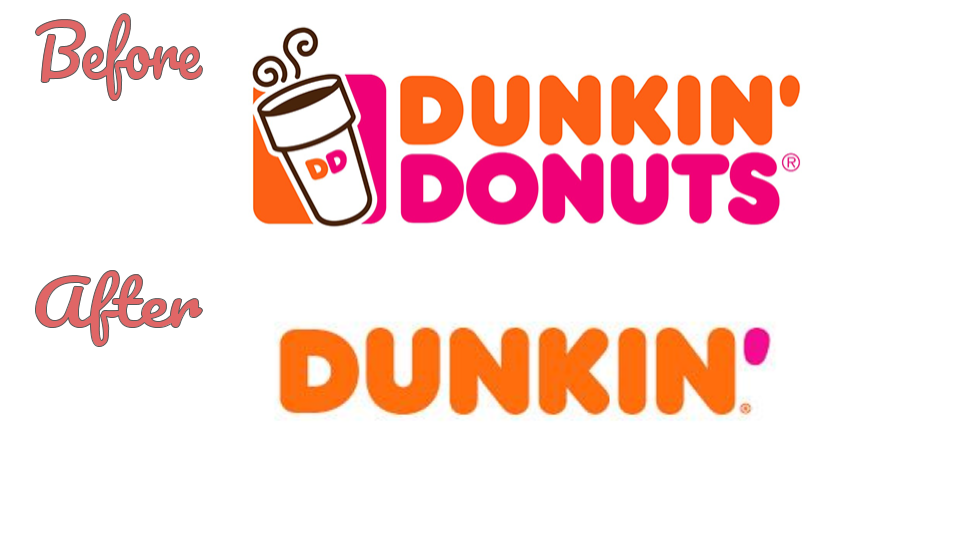 Airbnb
This famous worldwide company established in 2008 implemented a total redesign that worked. The company's management decided to radically change the perception of the brand. They used different color palettes, typography, and a new logo. Airbnb received many negative comments on social media but finally, the audience accepted the company's step. As a result, Airbnb has a contemporary and engaging identity.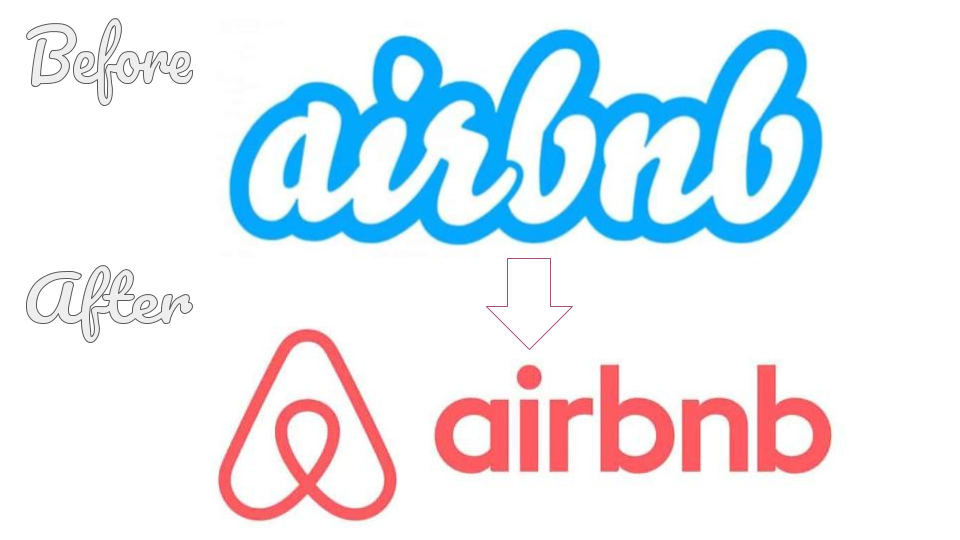 Starbucks
This multinational chain of coffeehouses and roasteries has changed its logo several times since it was founded in 1971. Let's consider Starbucks' latest rebranding conducted in 2011.
To celebrate their 40th anniversary, the Starbucks team decided to introduce a new logo. They dropped the lettering from the logo and gave space for the image of the mermaid and introduced a new identity to their consumers.

Dropbox
Dropbox was established in 2007 as a file-hosting service, however, in 2017 the company started to position itself as the connective tissue for different teams and businesses. The brand also changed its internal mission and created a cleaner and simpler logo. With a refresh, the team wanted to highlight that Dropbox is a workspace that enables teams and ideas to connect.
Burberry
Burberry, a luxury fashion house established in 1856, needed a makeover when its CEO changed in 2006. Since then the company started telling its story of moving forward to showcase the best aspects of the brand. Burberry aimed at engaging customers digitally via social media channels. The brand redesigned its story and made a strong emphasis on its "Britishness" by employing British models.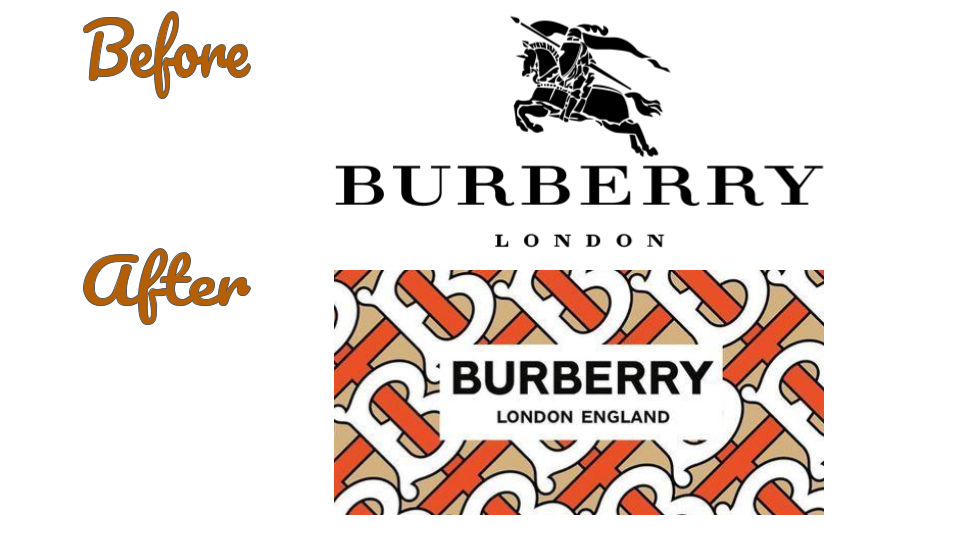 The organization founded back in 1844 is a consumer co-operative with a diverse family of retail businesses. The company's decision to rebrand was caused by a series of events that undermined the Co-Op's reputation. In 2013, the public found out that there was a 1.5 billion pound hole in the bank's accounts.
The company needed to improve the group's tarnished image to prevent a collapse. Co-op changed its leadership and restructured business. They decided to adopt a recognizable visual identity for their customers. Additionally, the organization offered a 5% reward on the brand's products.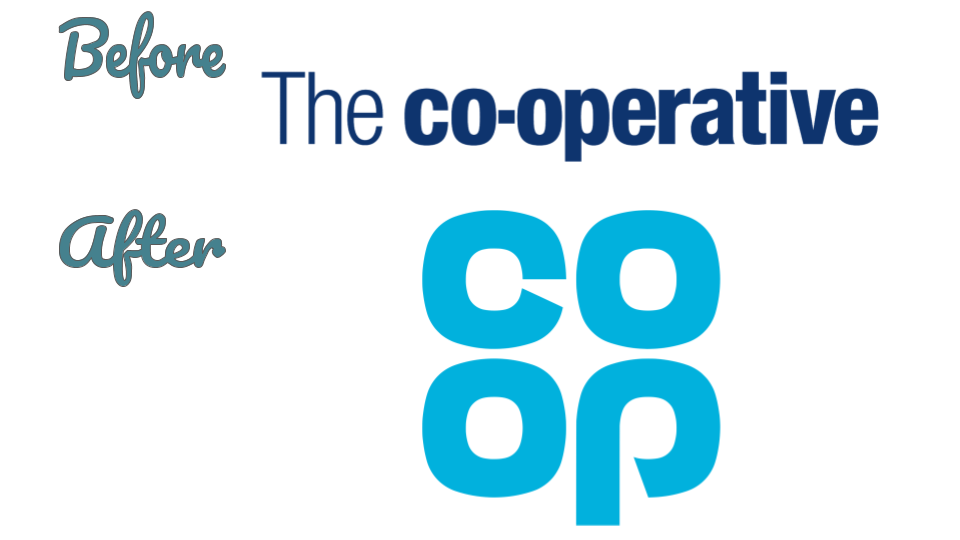 Coty Inc.
A rebrand gave a new life to Coty, a beauty company that has been in business for more than 100 years. After a refresh, the brand presented its new visual identity, values, and purpose to its target audience. The company switched its identity to joyful, colorful, and multifaceted to showcase the diversity of beauty. They instantly created newly branded interiors and delivered personalized brand communications to their customers.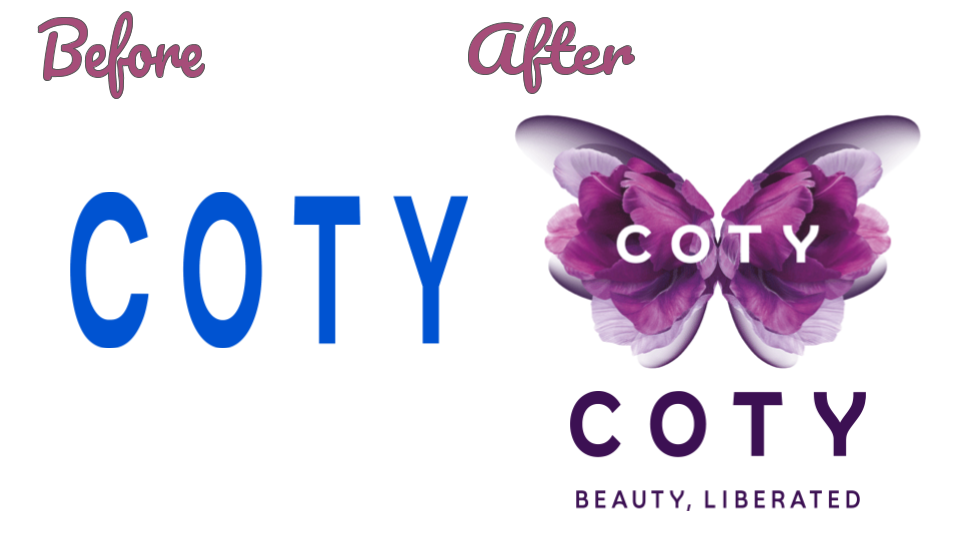 Whether your brand needs a refresh or a total makeover, rebranding is instrumental in creating the right perception. It allows you to create a brand new visual identity for your business to achieve several goals, like: reaching new customers, improving brand awareness, boosting your Google ranking, and more.
Sources:
https://c-leveled.com/resource-list/rebranding-guide-how-to-navigate-the-rebranding-process/
https://brandsonify.com/blog/latest-blogs/6-common-mistakes-to-avoid-when-rebranding-a-small-business/
https://sendpulse.com/support/glossary/rebranding